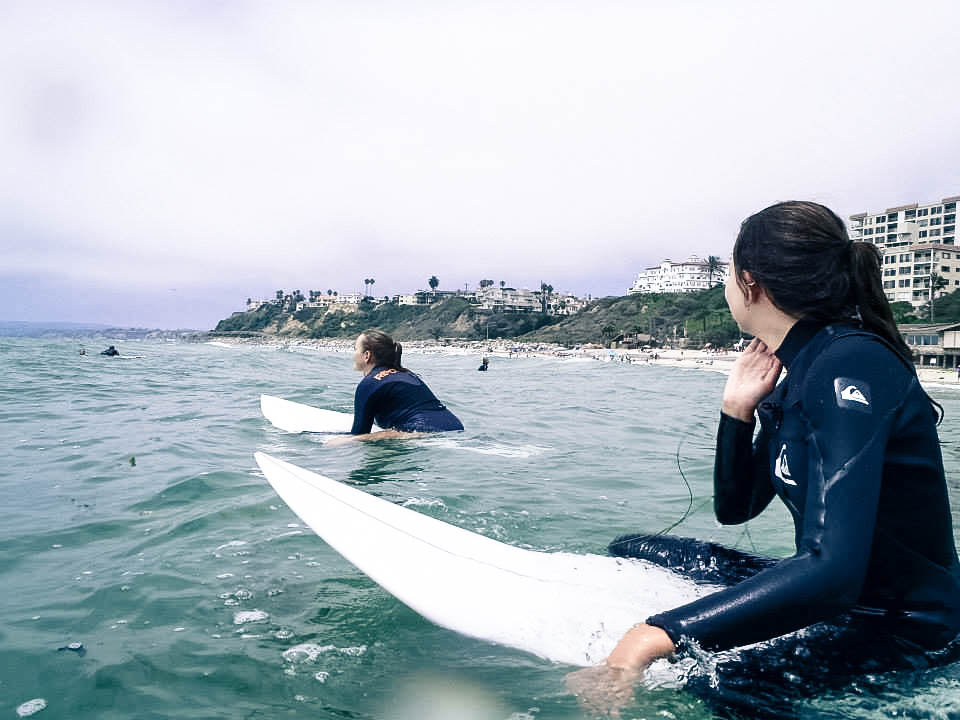 penny for your thoughts /

August 4, 2016
How living my dreams started by moving to California.
In 2010, I made a trip out to Southern California with my family and my best friend, Nicole. I had been out here several times since my grandma and aunts both lived there, but this was Nicole's first time. For ten days we frolicked around Trabuco Canyon, played on the beaches in Dana Point and explored Laguna. Watched the Padres beat the Dodgers, ran around the OC Fair eating funnel cakes and riding carnival rides; we even borrowed my aunt's car to go mingle at Huntington Beach with other teenagers (we actually drove to LA and went to a fraternity party and had a blast). After re-piercing my navel (which I had taken out because my ex didn't like it, and screw him), we swore to one another at the Newport Beach pier that we would finish our AA's in Orlando at the community college we both attended, and would transfer to a school in California. Her and I would get a little apartment and get by doing whatever we had to but we would be happy.
In two years time, we would be in southern California, learning how to surf. We would get rid of all of our "Florida" clothes, would walk and bike everywhere, be in amazing shape and have sun kissed skin. We would live the dream.
But it didn't happen. At least not right away.
Her and I both graduated in the same semester and transferred to Universities, but not together. I transferred to FIU to pursue a degree in Dietetics (after I got rejected from UCLA) and she transferred to UCF to get a degree in Psychology. Life marched on but California was never far from our minds.
We both fell in love.
While I was living in Miami, my counterpart was living on Camp Pendleton in San Clemente, California. Nicole was living in Orlando, with her boyfriend in El Segundo. We often went on trips together out to California to see them; after her birthday in Vegas, for Christmas and New Years one year in Big Bear. One Valentine's Day, I went out there by myself. We were sliding trips in whenever we could afford them. Eventually, she took the plunge. With four suitcases checked, we moved her out there into a tiny apartment. Eight months later, I followed suit.
It was finally happening. I was moving to California. And I have been here ever since.
Last weekend, Nicole and I were having a cute, chic breakfast in Topanga while we gushed about how beautiful her wedding was going to be. We envisioned how cute my daughter would be as the flower girl, what kind of beard her fiancé would have and my husband's role in the wedding. During our talk, Nicole brought up how crazy it was that we ended up in California together, after wanting to live here for so long. We discussed how different our lives were since being here and how much we had grown. Even though we live an hour apart, her and I are able to get together so often that it's almost like we live in the same town.
The very next day, Facebook notified me that I had memories that had happened six years prior. I opened the notification to see a picture of a young us, covered in golden California sunshine and beaming with happiness.
It was from our first trip together.
I would be lying to you if I said I didn't almost cry. So often in life, we let dreams dissipate into unrealistic wants. Like hearing a story from an older generation, about the grand plans they had before life took a rational toll. And while we don't live extravagant lives, we still did it. Her and I manifested our dream into reality, took the steps we need to get there and the universe had our backs.
We did it. We live the California dream.
And most importantly, you can do it too.
Namaste,
Meaghan at FL&P
Tags:
adventures
,
aspirations
,
aspire
,
california
,
college
,
dream
,
dreams
,
exploring
,
falling in love
,
florida
,
karma
,
live
,
living
,
love
,
manifest
,
manifestation
,
positive
,
positivity
,
socal
,
southern
,
surfing
,
universe
,
vacation